Well-known self-acclaimed Ghanaian young million, Ibrahim Daouda popularly known as Ibrah One has disclosed in a new post on Snap Chat that he doesn't like Late Jerry John Rawlings A bit.
Although late Jerry John Rawlings has a lot of enemies, none of them has been able to muster the courage to openly celebrate his death except daredevil Ibrah 1 who is believed to be suffering from a mental related disease.
According to the socialite, the late Jerry John Rawlings was an evil man who maltreated a lot of innocent people hence Ghanaians who are praising the deceased statesman are hypocrites.
As revealed by the social media commentator, he does not like Rawlings for many reasons and even as he has joined his ancestors, he still does not like the former Ghanaian president.
Take a look at the screenshot below to know more…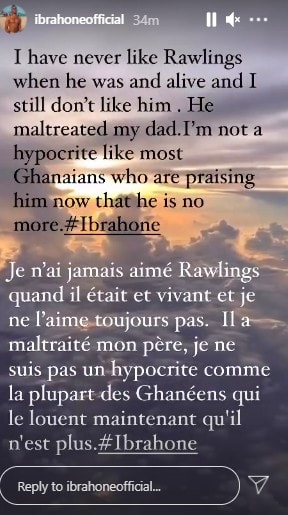 Source: Dklassgh.com