Abedi Pele is arguably Ghana's best player of All Time. The left-footed magician won the heart of many football fanatics who watched him play both on the field and on digital platforms. Abedi Pele is a former Ghana professional footballer who played as an attacking midfielder and was the captain of the senior national team – the Black Stars of Ghana.
Abedi Pele played for several European clubs including Turn- und Sportverein München von 1860, commonly known as TSV 1860 München, Lille, Torino, Olympique Lyonnais and where his name gained global recognition, Olympique de Marseille.
Abedi Pele Biography
Abedi Pele was born on November 5, 1964. Abedi Pele is 56 years old. He was born in Kibi in the Eastern Region of Ghana but grew up in Dome Kwabenya in the Greater Accra Region. He attended Ghana Senior High School in Tamale where he earned the named Pele for possessing the same ability and skills of Brazilian legend, Pele. He has a big and memorable statue at the capital city of the Northern Region of Ghana – Tamale.
Football Career
Abedi Ayew Pele's nomadic career began with Real Tamale United in Ghana Premier League from 1980 to 1982 and scored 21 goals in 46 matches. He received call up to the senior national team to feature in the 1982 Africa Cup of Nations. Abedi Pele received offers from foreign clubs during the tournament and did not return to Real Tamale United he instead inked a contract with Al Sadd in Qatar for a fee of $1000. He scored 7 goals in 8 matches for the 1982/83 season and then join FC Zurich for a short period and scored 9 goals in 18 games in 1983/84 season. Abedi Pele returned to Ghana but none of the two biggest clubs, Accra Hearts of Oak and Asante Kotoko could capture his signature and he joined AS Dragons FC de l'Ouémé in Benin in 1984. He spent a season there and scored 11 goals in 8 matches before returning to his former club, Real Tamale United in Ghana for a season.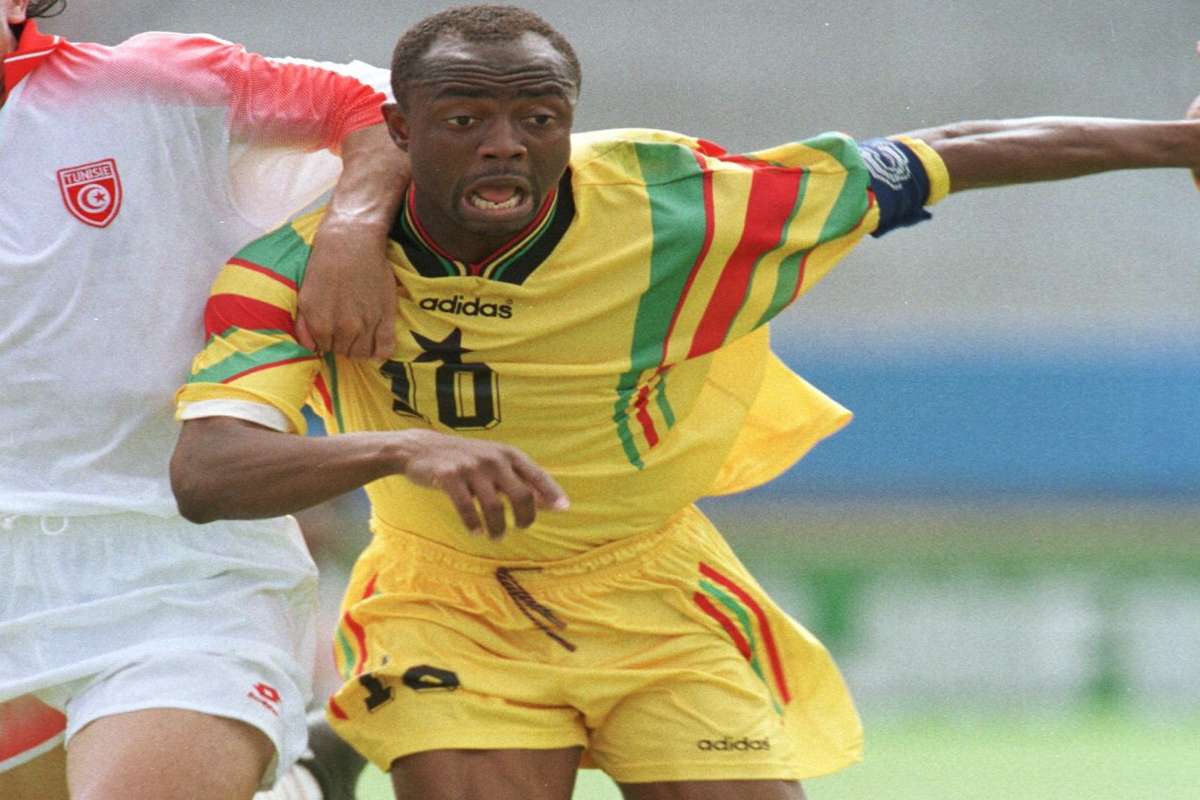 He was signed by French side Chamois Niort between 1986 and 1987 scoring 14 goals in 32 games. He then received a lucrative contract from Olympique de Marseille where he played his longest season for a foreign club. Between 1987 and 1992, he scored 23 goals in 112 games. In 1983, he won the Uefa Champions League with Marseille against Milan in Munich. The recognized magician joined Olympique Lyonnais for a season after a loan at Lille and between 1993 and 1994 he scored 3 goals in 29 matches and signed for Torino in Italy. after 11 goals in 49 for Torino between 1994 and 1996, he left Italy to Germany to join TSV 1860 Munich. Abedi Pele spent two seasons playing 50 games and scoring 2. He then signed for his final club where he hanged his boot, Al-Ain Football Club. From 1998 to 2000, Abedi scored 28 goals in 31 games. Abedi Pele scored 157 goals in 479 games throughout his career for clubs.
From 1882 to 1998 be caped 73 times for Ghana and scored 33 goals. This brought his goals to 190 in 552 games.
Family
Abedi Pele is happily married to Maha Ayew with four children, three boys and a girl. All the three boys are now professional footballers and have played for the Black Stars of Ghana. Andre Ayew and Rahim Ayew formed part of the Ghana Squad presented for the FIFA 2010 World Cup in South Africa while Jordan Ayew joined Andre Ahew for the 2014 Brazil World Cup.
Abedi Pele is the brother of former Accra Hearts of Oak stars, Sola and Kwame Ayew. Sola and Kwame Ayew also played for the Black Meteors of Ghana.
Life Facts
Abedi Pele is the first sportsman to be awarded Order of The Volta (Civil Division ) by the Ghanaian Government.
South Africa appointed him the FA Spokesperson for their 2006 World Cup bid
Abedi Pele is a member of FIFA's Football Committee, and of the player status committees of both FIFA and CAF.
Abedi Pele has often been included in FIFA ALL-STARS. He was the captain and goal scorer of the African All-Stars that beat the European All-Stars 2-1 in Benfica's Estádio da Luz in Lisbon in the 1997 Merdian Cup
Abedi Pele is the father of Crystal Palace attacker Jordan Ayew and Swansea City attacker midfielder, Andre Ayew.
Abedi Pele won the French Ligue 1, Uefa Champions League, African Best Player Award three times, BBC African Player of the Year and the Golden Ball.
Abedi Pele played for 12 clubs and scored 157 in 479 games.
Abedi Pele Net Worth:
Abedi Pele net worth or net income is estimated to be between $1 Million – $5 Million dollars. He has made such amount of wealth from his primary career as Soccer Player.
| | |
| --- | --- |
| Net Worth | between $1 Million – $5 Million |
| Annual Salary | N/A |
| Source of Income | Soccer Player |
| Verification Status of Wealth | Unverified |
Dead or Alive?
According to wikipedia latest update, he is still alive.
Quick Facts:
Here are some interesting facts about Abedi Pele:
* He was one of the first African-born players to rise to prominence in the European leagues.
* Abedi Pele is a Ghanaian footballer. 
* Associated team name: Olympique de Marseille, FC Zürich, Olympique Lyonnais, Lille OSC, TSV 1860 München, Ghana national football team, Al Ain FC, Al Sadd SC, FC Mulhouse, Real Tamale United, AS Dragons FC de l'Ouémé, Torino F.C. 
* His position is "Midfielder".
Frequently Asked Questions (FAQs):
Why is Abedi Pele famous?
He is famous for being a successful Soccer Player.
Where is he from?
He is from Ghana.
How tall is he?
His height is 5′ 10″
How much does he earn?
between $1 Million – $5 Million.
Is he married?
Single.
How many children(s) does he have?
N/A.
Source; Dklassgh.Com