Popular Nollywood actress, Tonto Dikeh cries out over the level of distrust she has developed over a period of time so much so that she dislikes seeing or staying around individuals.
The mother of one took to her Instagram story to declare her intention of getting a Personal Assistant (PA) and a nanny, but stated that she finds it quite difficult to trust people nowadays.
On a second thought, the thespian considered getting a robot instead.
In her words:
"I need a PA and a personal nanny for myself. Problem is I have developed a serious mad trust issues, and I dislike been around or seeing people always!! I think I need a robot"
See the post below: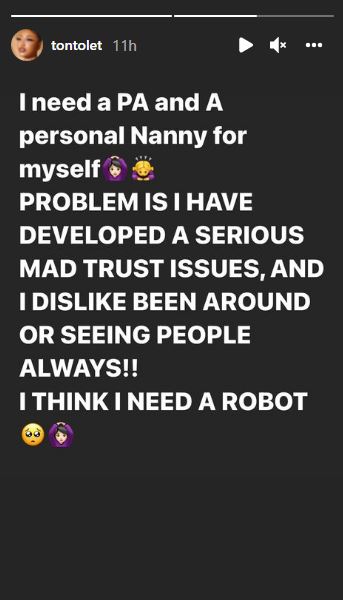 In other news, Nollywood actress, Yvonne Jegede has lamented the current trend of people judging success and wealth by social media posts.
While taking to her official Instagram page hours ago, the veteran actress dropped a post about the worrying trend where people assume a person's life is not okay, when they don't post on social media.
Yvonne Jegede wrote;
"The Internet has given popularity to opinions that shouldn't be formed, to behaviours that shouldn't be emulated, to people that shouldn't be famous.
The other day I posted something about a car and a new camera phone and I got a comment that got me thinking. Common sense is not so common nowadays. If you don't post on social media they assume your life is messed up! And that you don't have anything. Your Wealth/success is…. Continue Reading
Source: Dklassgh.Com