Human rights activist, Reno Omokri condemns the idea of an average person giving to those that are richer other than to the poor.
According to the politician, being generous is a welcoming gesture which God smiles at but not when it is from a less privileged to a richer individual.
In an Instagram post, Reno emphasized that it is worse when the intention has to do with showing off.
"Nothing wrong in giving money to people. But, don't go into debt to show people how much you love them. Even worse is going into debt to try to belong to a clique that already knows who belongs and who doesn't. Use your money to get wealthy, not to get attention!
When you feed the poor, God feels you. When you feed those that are richer than you, God deals with you. Your wisdom is profitable. To you. Your foolishness is also profitable. But to others. Not you. How can you give someone what your haven't given your mother?
God does not reward nice people. He rewards wise people," he wrote.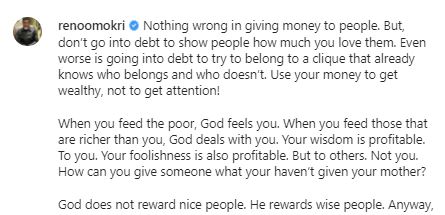 In other related news, Twitter user calls out singer, Davido Adeleke, following the massive birthday donation he received under 24-hours.
This is coming following Davido's request targetted at his friends and associates to donate to the cause of his coming 29th birthday after which he garnered over N150M from.
According to the Twitter user, it is uncalled for that a billionaire like himself sought financial aid from poor Nigerians.
"Ok, you had your fun @Davido. Naha. Funny joke. Now please come out and either 1) return everyone's money or 2) announce the charitable cause you plan on donating to. This is actually really sick. 
Lmao. Came back to see this tweet takingoff. Davido (a literal billionaire) posted his bank account # on Twitter and asked ppl to send him money for his birthday if they're his friends. Nigerians are actually sending money to this billionaire and think that's normal. Lol.
Nigerians worship wealth and status, so I'm not surprised that most of you lack the range and critical thinking skills to understand why this is unethical. The most interesting replies are from people who think I'm broke. 
In actuality, getting a position that put me in the top 5% of earners in the U.S. is exactly what helps me understand why this is wrong. Lol," she wrote.
Source: Dklassgh.com