Television personality, Bridget Otoo, has asked producers of GhOne TV's The Next TV Star show to edit her image out of all yet-to-be-aired episodes of the show.
From the post, it appears Ms Otoo is not happy about how the production team handles issues relating to communications as she claims she has to go to Twitter for information even as a member of the panel of judges.
View her tweet:
I believe reformation and reconciliation takes time… Since I have to find out everything on Twitter; here we go; @GHOneTV I would to kindly ask that you do not air any of the episodes of me on #TheNextTVStar Please edit all my episodes out.@thenanaaba ensure this is done iAi
VandemO-@Bridget.Otoo.2h ,@Serwaa Amihere Good luck and all the best ta you and the contestants It's time to focuson@metrotvgh #NewsNight let's talk BUDGET shall we?
The tweet no longer appears on the broadcaster's page but below are screenshots taken two hours after it was posted on Friday , November 19, 2021.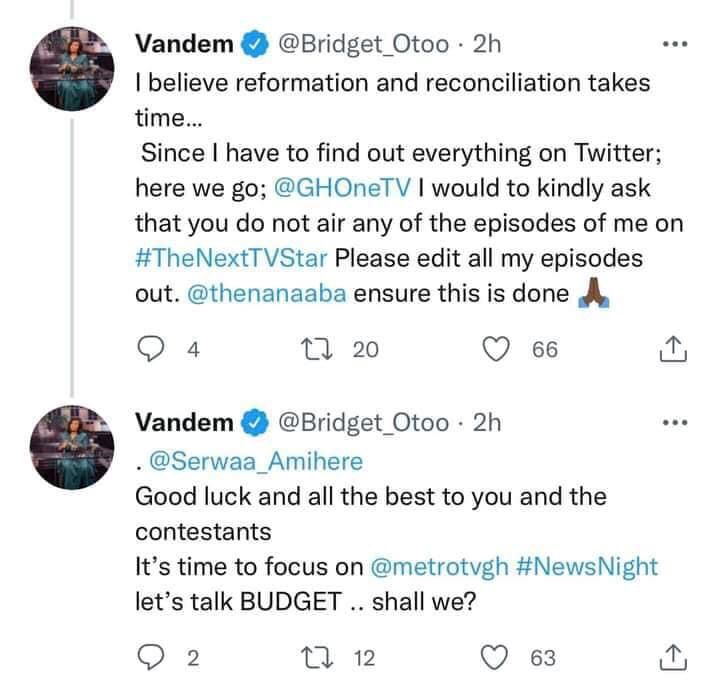 Away from that, Delay has proffered a piece of advice to Kuami Eugene after he performed with his lookalike last week in Kumasi.
On The Delay Show, she advised Kuami Eugene to protect his space and not to put someone who looks like him on the same stage with him again.
According to her, she even went on Google, and she was surprised to have found out that people were searching Kuami Eugene's lookalike than they were doing for him.
Prior to their performance at the Ratt Ray Park, they had earlier met at the premises of Angel FM in Kumasi.
With the hope of meeting his mentor, Kuami Eugene's lookalike had spent 60 cedis on transport just to meet the Rockstar, who gave him a 100 dollar cash gift.
Source: Dklassgh.Com