Thomas Partey, a Ghanaian footballer, has been accused of rape by his Moroccan partner, Sarah Bella after he refused her wish to become her husband.
A rape case involving an unidentified premier league player at the North London club was recently linked to the Arsenal midfielder.
The alleged rape reportedly took place in June 2022. Partey spent this time in Ghana, disproving rumors that he is the suspected s3x offender.
However, recent reports indicate that Thomas Partey's Moroccan girlfriend is responsible for the s3x claims made against him. He did so since she had asked him to marry her when they were in Spain.
"Thomas Partey will be absolved of all accusations since the Crown Prosecution Service withdrew the [email protected] charges against the football player citing insufficient evidence, but it's not all done yet because another woman who also falsely accused him is aggravating the situation," an insider said.
Unclear when the couple travelled to Spain, but an informant said Partey is still in disbelief that the lady who forced him to become a Muslim convert could spread such lies, especially after he spent about 700,000 British pounds on their vacation.
The insider claimed that Thomas Partey has told his family the charges against him are untrue and that his partner Sarah Bella is the one who is behind them.
Check out screenshots below: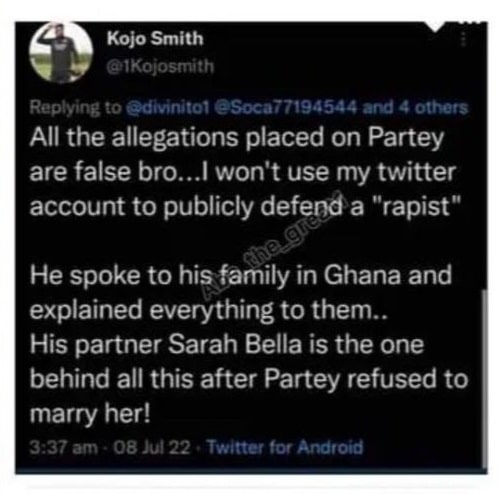 Source: Dklassgh.com
Recommended