Eight Months After Calling It Quits With The 'Don't Worry Darling' Director, The 'Sign Of The Times' Singer Is Spotted With An Ink On His Upper Thigh That Appears To Form The Word, 'Olivia.'
Harry Styles appeared to have a tattoo dedicated to his former girlfriend. During his vacation in Italy eight months after calling it quits with Olivia Wilde, the "Sign of the Times" singer was spotted with the ink etched on his thigh.
The 29-year-old flashed the never-before-seen tattoo that appeared to read, "Olivia," on Friday, July 28. He was at the time enjoying a boat ride with a group of friends in Bolsena. Photos from the outing were unleashed by Page Six.
On the occasion, the "Watermelon Sugar" singer was also seen having another ink that made the word "colazione" on his lower thigh slightly under what appeared to be the "Olivia" tattoo. The word "colazione" itself might be taken from the Italian language which means breakfast.
Both of Harry's tattoos were exposed since the former member of One Direction wore a pair of dark green shorts. He also sported an unbuttoned long-sleeved white shirt that came with green plaid patterns. He added a pair of black sunglasses, a dark-colored hat and several layers of necklaces to complete the look.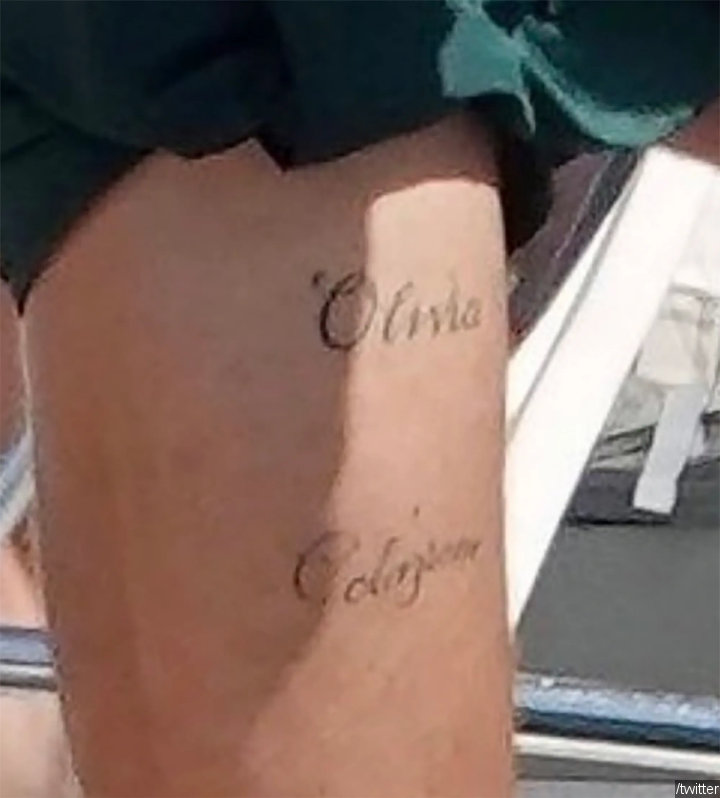 Harry's never-seen-before tattoo attracted the attention of his devotees. They did not take long to express their thoughts via Twitter. In the replies section of a tweet about his tattoo, one fan suggested, "Guys, the tattoo says olivia. as much as we love harry, we gotta accept that he makes dumb decisions sometimes."
Meanwhile, another devotee pointed out, "There's no way it says Olivia. We literally just figured out his other tat says colazione and we thought it said california for years. Just wait, we'll get a clear pic and it won't be Olivia."
Referring to One Direction's song titled "Olivia" from their 2015 album "Made in the A.M.", a third fan asked, "They had a song called Olivia, though, didn't they? Do we know how long he's had this tatt?"
A fourth devotee, in the meantime, voiced a different idea by writing, "It says Olina. It's a small town in Italy and the only reason it looks like Olivia is cuz there a hair or something that makes it look like there's an i but the i is way too long for that to be logical. Olina."
During the boat ride, Harry was accompanied by his pals, including Victoria's Secret model Jacquelyn Jablonski and the former "The Late Late Show with James Corden" host, James Corden. The group of friends were captured on camera having a conversation as they enjoyed their boat ride on the sunny day.