The CEO of Adonko Bitters, Dr. Kwaku Oteng, and Kevin Taylor, who is also the CEO of Loud Silence Media, have dominated recent news after the latter promised to expose him.
The initial altercation involved Dr. Kwaku Oteng's Angel Broadcasting Network employee Nana Yaa Brefo and Kevin Taylor.
In response to Nana Yaa Brefo's recent attack, Kevin Taylor declared that he will expose and bring down the Adonko corporation.
A recent development on social media claims that in response to Kevin Taylor's threat, Dr. Kwaku Oteng, the CEO, called the US-based journalist to plead for his life. This is according to Faceless Instagram blogger Thosecalledcelebs.
According to the blogger, a closed-door meeting has been held and Dr Kwaku Oteng has pleaded with Kevin not to go ahead with his planned exposé.
Sharing a video of Kevin's threat, she captioned it; "The latest one, Kevin insists on exposing Kwaku Oteng he will stop under one condition if only Kwaku Oteng can sack Nana Yaa Brefo. that means… they are begging him behind doors ooo… eeii boi! Does it mean he got evidence against Angel group? ah well"
Also Read: "I'll expose you if you don't sack Nana Yaa Brefo" – Kevin Taylor tells Dr Kwaku Oteng
See the screenshot below: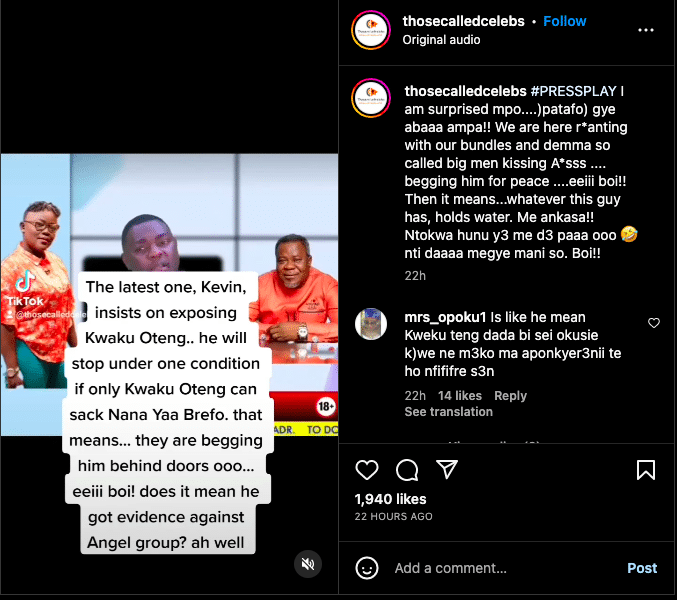 Source: Dklassgh.Com